First, what is an AED? What is a defibrillator? AED stands for Automated External Defibrillator. It is a portable, battery powered, electronic device that can audibly prompt and deliver an electric shock that will disrupt or stop the heart's dysrhythmic electrical activity. The shock will not start a dead heart, but it will stop certain lethal rhythms and give the heart a chance to spontaneously re-establish an effective rhythm on its own. According to the American Heart Association, CPR rescue attempts using electric defibrillation or AEDs improves survival rates by as much as 49%.
The difference between an AED and a Defibrillator
The main difference is the way the device analyzes the patient. An AED is essentially a simplified version of a manual defibrillator but works in a way that gives untrained individuals the ability to assist a victim that has experienced SCA (Sudden Cardiac Arrest). The AED can automatically analyze the victims heart to determine whether or not a shock is necessary. If it is necessary it will prompt the user to deliver the shock or automatically deliver the shock depending on the AED brand and specific functionality.
The fact that most sudden cardiac arrest (SCA) deaths occur away from hospitals is the reason why there are CPR programs for both professional EMS personnel and for laypersons. Two early problems with recognizing and caring for heart attack patients are being resolved. The first problem, delay in starting CPR, has been dramatically reduced through the training of more citizens who can administer CPR before EMS personnel arrive. The second problem stems from the fact that many heart attacks are fatal no matter how soon CPR is started. These deaths are often caused by lethal heart rhythms that must be corrected as soon as possible if the patients are to survive. The special procedure needed to save some of these patients can now be done in a pre-hospital setting by emergency-care providers such as first responders and EMT s. This special procedure is called defibrillation, which is an electrical shock given to a patient's heart in an attempt to disrupt a lethal rhythm and allow the heart to re-establish a normal rhythm.
EMTs and first responders have been learning how to assess and defibrillate certain lethal cardiac rhythms by using AEDs. Now many non-EMS individuals are being trained to use AED s because these lifesaving machines are being placed in schools, parks, shopping malls, at golf courses, on airplanes, in airports, and in many other public gathering and recreational places. The US senate has passed S.1488, the Cardiac Arrest Survival Act, which has two purposes. First, it instructs the secretary of Health and Human services to make recommendations to promote public access to defibrillation programs in federal buildings and other public areas across the country. This helps to ensure the health and safety of everyone by encouraging ready access to the tools needed to improve cardiac arrest survival rates. Second, the act extends good samaritan protections to AED users and to those who acquire AEDs in those states that do no currently have AED good samaritan protections. This protection will encourage laypersons to respond in a cardiac emergency and use an AED. This legislation will enable and encourage more placement and use of AED s in public places.
The cardiac arrest survival act is a critical step toward increasing cardiac arrest survival rates, but just as critical is the training of those who will use AED's. Training will provide the information needed to understand the heart's electrical system functions and dysfunctions and the procedures for assessing and providing initial care for a person complaining of chest pain and going into cardiac arrest. Training will provide information on operation of the AED, and practice time with the AED. Training will also demonstrate the setup and defibrillation steps and emphasize all necessary precautions to take when performing the AED's special procedure. If the defibrillation is successful, the heart can regain or restart its normal rhythm.
AED Facts According to the American Heart Association (AMA)
On an average day in the United States 1,000 adults die from Sudden Cardiac Arrest (SCA), a total of 350,000 per year. SCA is the result of an arrhythmia, where the electrical pulse of the heart goes out of control, causing the heart to quiver. Doctors don't understand why this happens, but they do know that shocking the fibrillating heart is the only effective treatment.
The American Heart Association estimates that 20,000 to 100,000 SCA deaths could be prevented each year if defibrillation was readily available. Electrical shock restores a heartbeat and circulation, but to survive neurologically intact, rescue must be swift.
Defibrillation within the first minute of sudden cardiac arrest can save the lives of up to 90% of its victims. However, with each minute of delay until defibrillation, the survival rate drops by 10% (American Heart Association)
AED Regulations
Most states have local regulations about the use of an AED in a non-clinical setting. While laws vary somewhat, there are a few elements of AED regulation that are common to almost all states:
Current training in an approved AED program
Involvement of a physician medical director. Except for one model.
Limited liability for the user, employer, physician under "Good Samaritan" laws
Regular machine maintenance as per manufacturer
AED Selection Guide – This guide is by far the best we've seen on the internet. It provides unbiased facts, similarities, and misconceptions on AED's. Special thanks go to the www.AEDsuperstore.com. Awesome Job. Below are a few excerpts.
More AED Information – Here is another great resource of information. Lots of information. Thanks to aedsurvivors.org
Also be sure to checkout our aed reviews category for ratings and reviews.
Most AEDs are Similar and they should Be
All AEDs are FDA approved – There is no supporting research that says one brand will save more lives than the other. Most ratings and reviews will comment on the ease of use of each model.
All AEDs use voice prompts to easily guide the user through a rescue. Once you're trained and certified in the use of an AED, you may use any model, anywhere.
All AEDs use biphasic waveforms to deliver life-saving therapy – It's an industry standard that is present in every device.
All AEDs perform electronic self-tests – They test their own circuitry and batteries regularly. If the batteries are low the device will chirp much like a smoke detector. The AED will let you know if it's ready-to-use with a visual and/or audible indicator. Some models are more automated than others.
AED Components
The Battery – AED batteries should be checked on a monthly basis to ensure they are functioning correctly and have enough power to be used to effectively. Bad batteries (or should we say bad battery maintenance) has been linked to failed life saving attempts. The lifespan of a typical AED battery is  3-5 years in the standby mode, depending on the model. Many manufacturers will also recommend that a spare battery be kept close to the unit in case of battery failure. Some models will even perform self checks on the battery to make sure there is enough power for proper use. Rechargeable batteries (lithium & lead acid) are available for many AED models.
The Pads – In order for an AED to function properly the pads or electrodes must have the appropriate contact with the skin of the patient. AED pads are manufactured with a sticky, conductive gel that allows the unit to administer a shock if necessary. If this gel deteriorates you won't get the optimal contact needed for the unit to work effectively. Most AED pads will expire in 2 years (due to the gel drying out) so they must be replaced often. Most pads will have an expiration date clearly labeled on their packaging.
The Unit – AEDs come in different sizes, weights, and colors. Most are relatively small and extremely portable. The main differences between higher priced AEDs and more economically prices units comes down to automation, visual screens & prompting, and other extended functionality. Some AEDs not only tell you what to do, but visually show you as well. The level of detail will differ from one model to the next. These functions are extremely useful for individuals that do not have training and may not be comfortable performing a life saving act. A few new AED models can even show you how to administer CPR, giving instruction on the level of chest compression. Remember that all AEDs are approved by the FDA and will save lives equally.
AED Accessories – Different models come equipped with different accessories so when comparing prices, understand what is included in the purchase of the device. For example, all AEDs come complete with the device itself, electrode pads, and batteries. Some come supplied with an extra set of electrodes, a rescue kit, or even a carrying case. Additional accessories you may want to purchase might include a spare battery, wall signs, and possibly a wall cabinet to prevent theft.
Example of an AED Procedure
The following is an example of the operational procedures for an automatic external defibrillator (AED).  Be aware each AED – defibrillator model will vary from one to other.
Once the leads (pads) are attached to the patient, the AED will automatically assess the patient's heart rhythm, sense if a shock should be delivered, charge to the preset energy level, and deliver the shock to the patient. AEDs have voice synthesizers to alert the rescuer and give instructions that typically include "Stop CPR", "Stand Back", and "Check Breathing and Pulse".
If the defibrillator advises that a shock is needed it charges up and an alarm sounds when the machine is ready.
Depending on the model it will automatically shock the victim or it may instruct you to manually shock. (may shock up to 3 times, the 3rd shock is strongest)
Useful Resources
The American Heart Association
AED Brands
The Heartstart AED is a next generation device brought to you by Philips®. Remember each AED has different system components and features. Right now there are two Hearstart models available the Heartstart On-site AED and the Heartstart FR2+ AED. Check with our recommended suppliers for prices and availability. Note: We highly recommend checking on each specific model before purchasing. Some models on the market can be discontinued.
***Check with our recommended suppliers for specific product information.
Philips Hearstart Company Page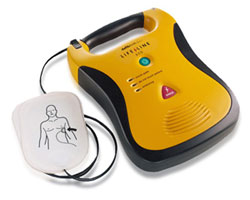 The Defibtech Lifeline and Reviver AEDs are technologically advanced enough to include all mission critical features necessary to provide the most advanced treatment for sudden cardiac arrest, yet so simple and unintimidating to use that even non-medical personnel can effectively save lives. For first response professionals like police, fire and EMS, the Defibtech AEDs are standard equipment. For schools, offices, stores, malls, factories, and public places, they are becoming as vital as fire extinguishers.
Defibtech is a company dedicated exclusively to providing AED solutions for the real-world user. The Lifeline and Reviver AEDs were designed by professionals with not only extensive medical device experience, but also high-quality, high-volume consumer product experience. All Defibtech AEDs are made in the USA in an ISO-9002 certified manufacturing plant.
***Check with our recommended suppliers for specific product information.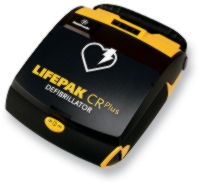 Physio-Control Corp offer a choice of AED: the LIFEPAK® 500 automated external defibrillator or the LIFEPAK® CR Plus defibrillator.
The LIFEPAK 500® AED is designed to be used by first responders to cardiac emergencies. Intuitive operation makes it the ideal product for infrequent users. It has clear screen messages, voice prompts and lighted buttons to guide responders through operation. At only seven pounds, this rugged device is extremely portable. Automatic self-testing and a visible readiness display helps assure that the device is ready to go. This product has been discontinued but is still available in limited quantities.
The LIFEPAK CR® Plus AED is a fully automatic AED that offers a simple 2 step process that allows a layperson to respond to an individual that has suffered a sudden cardiac arrest. The device was designed to deliver an electric shock only if it determines that the heart needs it. The system delivers the shock without pressing any buttons.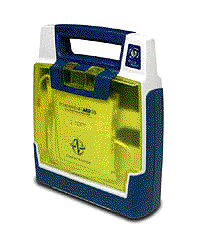 The Powerheart AED is a next generation device brought to you by Cardiac Science®. Remember each AED has different system components and features. Right now there are two Powerheart models available the original Powerheart and the new Powerheart g3. Both Powerheart AED's come with an easy one button operation. Check with our recommended suppliers for prices and availability. Note: We highly recommend checking on each specific model before purchasing. Some models on the market can be discontinued.
***Check with our recommended suppliers for specific product information.
Cardiac Science Powerheart Company Page
The Samaritan AED replaced by the Samaritan PAD AED is an automated external defibrillator (brought to you by Heartsine Technologies, inc) with its first-class and foremost state of the art technology, rugged design, and absolute ease of use, makes this unit an excellent choice. This "full" featured automated external defibrillator is so amazingly easy to use that even a child can operate it effectively and save a life. With the latest technology and uncompromising performance, the Samaritan AED is simply the best and unquestionably the perfect portable AED for all applications. The Samaritan AED unit has been discontinued and is replaced by the Samaritan PAD.
The Zoll AED plus directs you through all the steps of CPR in order with pictures, text, and audible prompts. It even supplies feedback on how you did during the rescue. Remember each AED has different system components and features. Check with our recommended suppliers for prices and availability. Note: We highly recommend checking on each specific model before purchasing. Some models on the market can be discontinued.
ZOLL's AED Plus offers a feature called Real CPR Help. It is a CPR feedback tool that gives instructions while at the same time providing feedback to help you through the procedure. Audio and visual prompts were put in place to help you rescue a victim with confidence. No other automated external defibrillator (AED) offers this option.
AED Companies & Suppliers
Quick Medical – Wide selection of AED's, Free Shipping. Zoll, Samaritan PAD, Philips HeartStart.
AED Superstore – The AED Superstore offers one of the largest selections of AEDs as well as some of the best service and support. We're owned and operated by EMS professionals who use automated external defibrillators in the field.
American AED – American AED is a premier provider and trusted source for the latest AED, Automated External Defibrillator, for public & professional use. We offer the newest and the most reliable AEDs from major brands like Zoll, Lifepak, Philips, Samaritan, Powerheart, and more.