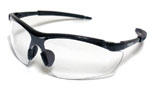 Like safety goggles, safety glasses are essential for preventing eye injuries that may occur in the home or workplace due to airborne debris, sparks, and other hazards. But unlike safety goggles, safety glasses are typically lighter and provide a more comfortable fit. Do they offer the same protection though? Contrary to what many people think, safety glasses and safety goggles are not interchangeable, as there are a number of major differences that separate the two.
Safety goggles give the user full eye coverage and can protect you from a number of hazards by offering a sealed frame around the eyes. Safety glasses, on the other hand, only protect the eyes from front and side impacts. In spite of their differences though, safety goggles and glasses are both crucial for eye protection in the home and workplace.
OSHA's eye and face protection standard, 29 CFR 1910.133, requires that eye and face protection be ANSI Z87.1 certified. All ANSI Z87.1 certified safety glasses are required to indicate their compliance with a Z87 logo on the lens or frame.
Hybrid Safety Glasses
Hybrid safety glasses are glasses that can mimic some of the properties of safety goggles while still offering some of the comfort and sight advantages of safety glasses. They are manufactured with foam or rubber around the rim, lenses, and frame that provides better protection against airborne dust and particles. Hybrid safety glasses should not be worn when working with chemicals or splashing liquids. Conventional safety goggles will always provide better protection so it will come down to the severity of the hazard to determine if this type of safety eyewear is appropriate.
(RX) Prescription Safety Glasses vs Non-Prescription
Prescription safety glasses provide the same eye protection and are made from the same materials as non-prescription glasses but with the added benefit of aiding users that need the help of prescription eyewear. Wearing prescription glasses under your safety glasses is often cumbersome, uncomfortable, and will often lead to sight impairments. Using prescription safety glasses will eliminate the need for your regular prescription eyewear and will give you the freedom to work in a more efficient manner.
The price of prescription safety glasses will often vary depending on the specifications of the user's needs as determined by their eye care professional. In most cases, they are typically more expensive than conventional safety glasses.
Many companies can even incorporate your prescription (rx safety glasses) into the styles they currently offer. In addition to several frame styles many manufacturers will offer features specifically made for safety such as wraparound frames with side shields and frames that block dust and debris. Most of the safety glasses manufacturers below can incorporate your prescription lenses into the specific styles they offer:
Wiley X
Oakley
Remington
Elvex
Titmus
Pyramex
US Safety
Radians
Boas
Crews
Smith and Wesson
Safety Glasses – Getting the Proper Fit
First and foremost, make sure your safety glasses fit properly. Improperly fitted safety eyewear is one of the many causes of significant eye injuries. Your safety glasses should be fitted close, but not against the face in a way that allows the nose piece to fit snuggly. The frame should be moderately tight but should rest comfortably with slight pressure behind your ears. There are also a number of other comfort luxuries that can be added like foam inserts and gel padding. Getting the proper fit will go a long way towards keeping your eyes safe in hazardous situations.
Safety Glasses Colors, Tints, & Shades
The lenses of your safety glasses will often be manufactured in a variety of colors and shades that have a specific function in mind. Some work environments require the use of colored or tinted eyewear to reduce glare and screen hazardous radiation or UV light. The colors and functions listed below are just a sampling of the different types of safety glasses that are available.
Clear lenses are often the least expensive and most frequently used type of lens used in safety glasses. They provide the most visible light transmission (100% VLT) are great for most indoor activities that require eye protection.
Yellow or Amber colored lenses are the ideal choice for hazy or low light outdoor working conditions. They have the ability to block most of the blue and UV light while providing both depth and contrast.
Vermillion lenses provide clarity and a muting effect on green and blue backgrounds. They are useful for activities where contrast is needed. Vermillion lenses will typically reduce glare created by fluorescent and halogen lighting.
Blue lenses are designed to be used in indoor work environments with high levels of yellow lighting and glare. The blue in these lenses will neutralize the effects of yellow light and reduce eye strain and fatigue.
Mirrored lenses are often added to standard gray lenses to help reduce sunlight and glare in outdoor working environments. Most mirrored lenses can absorb 99.9% of UV light and allow for true color recognition.
Gray or Smoke colored lenses are great at decreasing visible glare and brightness while maintaining depth perception. They are a suitable lens tint for outdoor work environments because they allow a visible light transmission of about 15%-20%.
Green lenses (aka) filtered lenses are typically worn for light welding and torching applications. They protect against UV and IR radiation that can occur when working with certain metals. The shades of green will varying depending on the application.
Brown colored lenses are similar to yellow and amber lenses. They can block most blue and UV light while providing both depth and contrast. Also ideal for hazy and/or low light working conditions.