Wheelchair lifts are used for the loading, unloading, and transportation of wheelchairs & mobility scooters in vans, RVs, and automobiles. Vehicles that have been equipped with automatic lifts are convenient because they remove uncomfortable chair transfers and the difficulties of loading and unloading a wheelchair.
Determining The Wheelchair Lift You Need
The first consideration you must make when deciding upon a lift is whether you are able to transfer from your wheelchair or scooter to seat within the vehicle, or if you prefer or need to remain in your chair while traveling. Once you have determined your preference or circumstance, you'll be able to narrow down your choices enough to make an informed decision.
Before deciding upon a wheelchair lift ask yourself these questions
Is the make, model, and year of your automobile compatible with your choice of wheelchair lift?
What type of wheelchair do you have? Is it compatible with the lift?
Do you need any special options on your lift including the availability of a manual emergency back-up system to lower the lift if the drive system fails? Different types of control switches are also available for raising or lowering.
Are any modifications necessary to install the wheelchair lift in your current automobile?
Types of Wheelchair and Scooter Lifts for Vans, RVs, & Automobiles
Platform Wheelchair Lifts – There are both solid and folding platform lifts that can be subcategorized into automatic and semi-automatic types. An automatic lift will fold, unfold, lower and raise by operating a single switch. A semi-automatic lift requires manual folding and unfolding of the platform. They can also be further subcategorized into under vehicle lifts, folding platform lifts, and side entry lifts.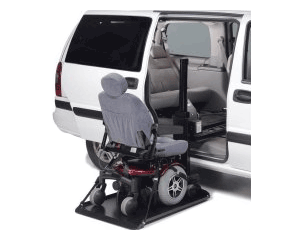 Rotary Wheelchair Lifts, sometimes called a "swing" lift, allows the wheelchair to be moved by swinging it inside, outside, and up-and-down. Normally used in vans and minivans.
Compatibility can be an issue when adding these types of lifts to an automobile. Choosing the type of operation, such as electric or hydraulic, will also vary depending on your location. Extreme climates and temperatures may also determine the type you need.
Finding a Vehicle That Will Fit
Most retailers & suppliers should be able to verify if a certain vehicle make or model is compatible with a particular wheelchair lift. The should also be able to tell you alternative combinations that have been successful in the past.
Funding for your Wheelchair Lift
Your wheelchair lift dealer can assist you in your search for funding, but first you must realize that funding opportunities are unique from one individual to the next. If you're a veteran, the Veteran Administration may have programs that cover all or part of your expenses, depending on the nature of your disability. Other state offices, including the Department of Vocational Rehabilitation or the Division of Developmental Services, should also be asked to assess your eligibility. And, of course, your insurance or workman's compensation policies may include coverage for your type of disability.
Outside funding sources may help you reduce your own out-of-pocket expense, but don't forget opportunities to further reduce your costs. Your doctor's prescription, for example, may exempt your purchase from sales tax. Your accountant can address possibilities for income tax credits. And your vehicle's manufacturer may offer valuable rebate or incentive programs that could have a significant impact on the final cost of your vehicle or conversion – The Braun Corporation
Manufacturers often offer rebates on new vehicle modifications. The companies below can help.
Chrysler Corporation
Chrysler Automobility Program – (800) 225-9877
Ford Motor Corporation
Ford Mobility Motoring Program – (800) 952-2248
General Motors Corporation
GM Mobility Assistance Center – (800) 323-9935
ADA Requirements
The following minimum guidelines have been established by the Americans with Disabilities Act (ADA) of 1990 regarding the transportation of handicapped passengers. For a complete detailed explanation of the ADA or to request a copy of the ADA handbook, you may call the ADA information line at 800-514-0301 (voice) or 800-514-0383 (TDD); or you may visit their website at here.
Leading Wheelchair Lift Manufacturers
The Braun Corporation – Ralph Braun (founder and CEO) started building mobility equipment for personal use back in the 60s. They have been building equipment for wheelchair and scooter users over the past 30 years. Their mission at The Braun Corporation – to provide people with disabilities access to the world. See The Braun Corporations Home Page
Bruno Independent Living Aids – Bruno Independent Living Aids, founded in 1984, is family owned and operated, and has a proud history of innovation that provides solutions for individuals who may face challenges with mobility. Bruno is an ISO 9001 Certified manufacturer that produces high quality mobility products in the stair lift, electric scooter, power chair, vehicle lift and assistive automotive seating categories. See The Bruno Independent Living Aids Home Page
Invacare – Invacare is an industry leader in the $6-billion market for home medical products, manufacturing and distributing the world's broadest product offering to approximately 15,000 independent, home medical equipment (HME) providers. Invacare reports results along three geographic segments (North America, Europe and Australasia) and groups its products into four distinct product categories (Standard, Rehab, Medical Supplies and Respiratory). See The Invacare Home Page.
Pride Mobility Products Corp. – Pride Mobility is an industry leader in the design, development and manufacture of mobility products—power chairs, scooters and lift chairs—is an enduring organization comprised of persons committed to the service of individuals with disabilities and mobility impairments. See The Pride Mobility Home Page